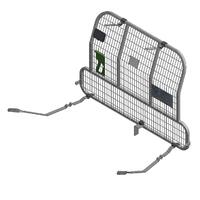 Part Number - 506150
Description
Cargo Barrier
SKU
506150
Make
MITSUBISHI / PEUGEOT / CITROEN / CITROËN
Model
ASX / 4008 / C4 AIRCROSS
Suits Vehicles
01/2010 -
Body Type
Closed Off-Road Vehicle
Number of Positions
2 Positions
Roof Line
with or w/o sunroof
Notes
"Behind 2nd row seats fitment only. Vehicles with space saver spare wheel require 506153 (KB) infill kit. Peugeot 4008 from June 2012.
mso-fareast-font-family:Calibri;mso-fareast-theme-font:minor-latin;color:#262626;

mso-ansi-language:EN-AU;mso-fareast-language:EN-US;mso-bidi-language:AR-SA"">Hard

luggage cover cannot be reinstalled with CB in place."