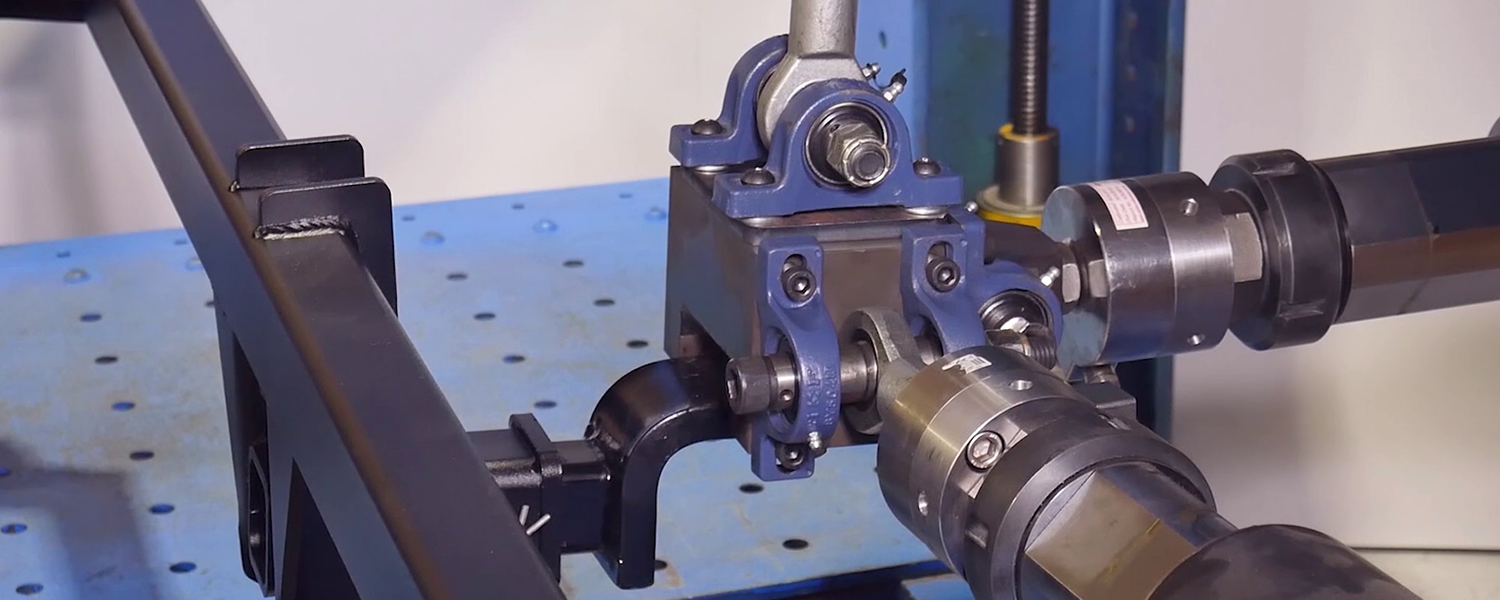 DYNALOAD™ PROVING CENTRE
Every Milford Towbar / Hitch is designed, tested and rated in our world leading, state-of-the-art, NATA certified DynaLoad™ Proving Centre.​
Through many years of market leading product design, collaborative research with internationally renowned Universities, consultation with industry affiliates and product testing in the most extreme environments around the world – both on and off-road, Milford has developed a global leading, on and off-vehicle load simulation testing apparatus which fully replicates real life towing conditions!
With an ability to finely monitor and control variable loads and amplitudes over a predetermined duty cycle which is modelled precisely upon an extreme range of selected towing profiles by OE manufacturers, Milford's unique DynaLoad™ test apparatus provides 3 axis, combinational dynamic load testing which projects real towing conditions upon both the Towbar and the Tow vehicle simultaneously. This incorporates all aspects of real-world use; that is, normal use, sports use, off road use and misuse at levels well beyond traditional capability.
The innovative mechanical design of DynaLoad™ achieves the greatest level of testing efficacy while operating more accurately, at higher levels of performance and in a shorter time frame than traditional towbar test facilities. This product life estimation apparatus is modelled on global testing routines including Car Loading system Trailer Coupling (CARLOS) – formerly considered to be the world's most demanding and real-life product design testing regime for Towbars & Hitches. Milford's DynaLoad™ however far exceeds CARLOS testing on passenger and light commercial motor vehicles*.
Further, this fatigue based 'Torture Testing' capability is vital in determining the suitability of a vehicles maximum Towbar / Hitch load rating. This new level of testing carefully considers and evaluates product design so that it is developed in complete harmony with the vehicles body structure and related engineering elements including suspension systems and drive train capabilities.
Static testing towbars to AS4177 in itself is simply inadequate. Results are easily manipulated for a test pass and not representative of today's vehicles or towing requirements. AS4177 static testing was conceived when vehicle design construction, manufacturing methods and materials were significantly different than those of today.
Towbars that are simply static tested and fitted to modern vehicles are known to result in costly vehicle damage and warranty repairs. These towbars are also patently unsafe.
This knowledge is shared with you from our vast experience producing Original Equipment towbars to genuine specifications.
Milford also performs traditional Static and Dynamic testing both rig mounted or on-vehicle.
Static Towbar / Hitch Test
– As the name suggests, this is a static axial load test based on the vehicles maximum towing capacity. In keeping with the requirements of the Australian Standard this testing can be performed both on and-off vehicle. It is noteworthy that in itself, Static testing on a test frame (or rig) does not impart any knowledge about the effects of duty cycle fatigue on the Towbar / Hitch or the ill effects of towing loads upon the vehicle chassis or body shell. One should be cautious of purchasing any product that has only been static tested on a test frame.
Dynamic Towbar / Hitch Test
– To better portray towing load effects, the Australian Standard also outlines an optional testing method that simulates some of the dynamic forces and load characteristics exerted upon the Towbar when towing.
At a calculated towing value, a continuous load is cyclically applied to the Towbar / Hitch at 20 degrees on the horizontal plane - in line with the longitudinal direction of the tow vehicle on even ground. This test is considered to supplement Static Towbar testing by providing additional knowledge regarding the fatigue related effects upon the Towbar design or fabrication method. Whilst it is therefore a significant improvement over Static testing only, it does not mimic the full extent of dynamic forces that are exerted upon the Towbar / Hitch and Towing vehicle whilst towing. ie: changes in departure or approach angles (beyond 20 degrees on the horizontal plane), vehicle cornering, actuation peak loads, misuse or most importantly, combinations of all these conditions which regularly repeat during the towing experience. Nor does dynamic testing on a test frame again impart any knowledge about the ill effects of towing load being transmitted upon the vehicle chassis or body shell.
Milford's vehicle-towbar harmonisation program is designed to ensure the safest, most reliable and hassle-free towing experience.*