Are you preparing for the next trip in your caravan, but you've over packed and now your caravan is heavier than you thought it would be? Often, we get caught up with the planning and packing for the next great adventure but there are safety issues that need to be carefully considered. The essential equipment like food, water, bedding, tools, spare clothes and all the essential recreational gear is just the beginning. Kids bikes, full gas bottles, the load in the drawer bar box or the all-important mod-cons we come to rely on, simply add weight to the caravan and the vehicle towing it. It may not seem like much at the time of packing, but collectively all these items add up to a lot of extra weight that you may not have considered when choosing your vehicle and caravan combo. This can lead to vehicle handling and safety issues, adding stress to both the vehicle and the driver or their passengers, which is not a good way to enjoy your much anticipated trip away. Alleviating these problems is as simple as carefully distributing the load created by all these essential items by correctly dispersing the load more evenly across all the tow vehicle and caravan axles. A weight distribution hitch might be just what's needed in this instance.
What is a weight distribution hitch – how does a weight distribution hitch work?
A weight distribution hitch is a towing accessory system that connects to the towbar hitch receiver, usually by way of an adjustable height drop lug or tongue (which you can match to suit your vehicle & trailer heights). Two adjustable load rated drawbars are horizontally suspended beneath the drawbar frame of the trailer or caravan, and by way of ratcheting up or increasing the pre-load on these drawbars, we can transfer some of the excessive down-ball load on the trailer coupling to the vehicle itself. This adjustability helps re-distribute some of the down ball load more evenly across all the trailer and vehicle axles, rather than all of the down ball load being concentrated on the rear of the vehicle alone.
Why is a weight distribution hitch important?
Towing without a weight distribution hitch can impact your safety and that of others on the road. Towing heavy trailers and caravans without proper weight distribution can place an excessive load on the rear end of your vehicle. Improperly distributed weight not only results in overloading the rear suspension (often seen by severe car sagging at the rear end) however it subsequently elevates the front of the vehicle too. In this condition, lights point toward the sky, and the steering becomes especially light (due to the minimal tyre contact with the road). The result can affect sway and steering control/stability and dynamically affect braking performance. In the worst-case scenario, it can be downright fatal. Of course, the added load to the rear end of the vehicle also causes undue wear and tear on tyres and suspension components and moreover, increases general fuel consumption. The solution to this problem is a weight distribution hitch kit matched to your vehicle and towing requirements.
Weight distribution systems come in different sizes – which weight distribution kit setup do you need?
How to calculate which weight distribution hitch kit I need?
It's important to understand that with weight distribution hitches, it's not a 'one size fits all scenario. You must determine which weight distribution hitch kit best suits your application or needs. Typically, they are available in 3 weight ratings: 600lb/270Kg, 800lb/360Kg & 1200lb/545Kg. Answer these two questions to determine which Weight Distribution Hitch is best suited to your vehicle towing requirements:
1. What is the total weight being towed (that's the ATM of the trailer, which is the trailer and all possible weight)? Weight distribution kits have an upper maximum limit so make sure you check that out.
2. What is the actual trailer down ball load weight? We recommend you spend time and effort properly understanding this with a set of calibrated down ball weight scales. You'd be surprised how often that old chestnut of "approximately 10% of your ATM is good enough". The positioning of the axle and the way you load your trailer or caravan will substantially affect this amount. And that's before you added the 200Kg general purpose box over the drawer bars on the front of the trailer! Also, check that you have not exceeded the download weight capacity located in the vehicle owner's manual.
3. When choosing a weight distribution hitch, it is essential to match the weight category of the hitch to your towing needs, or you might experience weight distribution hitch problems. If the weight category is too low, the hitch will apply inadequate force, resulting in inadequate load levelling. Conversely, if the weight category greatly exceeds your requirements, the over-rated system will apply too much load to your vehicle. Weight distribution hitch prices and sizes vary depending on the weight requirement. Milford's lightest weight distribution hitch option suits Medium Duty applications up to 270 kg. If you require a higher weight category, our heavy-duty weight distribution hitch is suitable for loads up to 360kg. Finally, for extreme loads, there's the super heavy duty weight distribution hitch, which is rated up to 545 kg.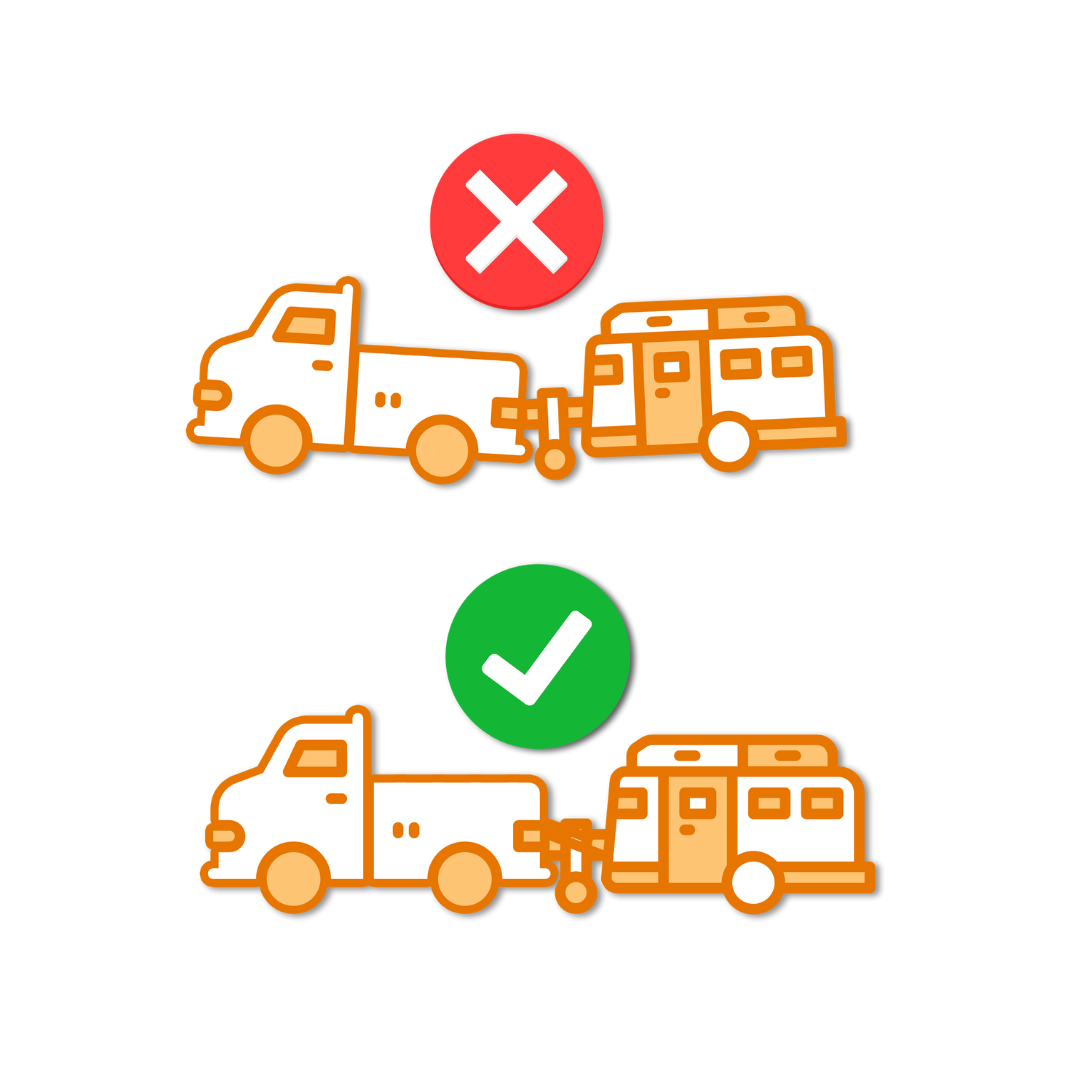 Weight Distribution Hitch Parts
Other parts for weight distribution hitches that you need to consider are replacement weight distribution shanks, which come in different sizes depending on the drop required when installing the weight distribution hitch coupling head. These have various adjustment holes for the drop or rise of your coupling head, depending on the height of your tow vehicle and caravan. Milford has six different-sized replacement shanks for our weight distribution hitches.
Important Facts and Figures to Consider for your Towing Setup
It's important to understand some of the common abbreviations that come up when discussing towing and weight distribution hitches and travelling with a caravan. These include Gross Vehicle Mass (GVM), Aggregate Trailer Mass (ATM) and Gross Combination Mass (GCM). Check your vehicle's owner's manual for the capacity for braked and unbraked loads, and check for the values of the GVM and GCM. The GVM is the maximum allowable mass of a fully loaded vehicle. Consisting of the tare mass (of the vehicle) plus the load (including passengers). The ATM is the total laden weight of a trailer, which includes payload (all the stuff you put in it) or, in other words, the fully loaded trailer or caravan before it's hooked up to your car for towing. This figure is specified by the trailer manufacturer and must not be exceeded. The tow ball download (also specified in your owner's manual) is the weight applied onto the tow ball itself by the caravan or trailer, and the GCM is the maximum laden mass of the vehicle plus the maximum laden weight of an attached trailer. Do not exceed the GCM rating under any circumstance; you'll likely damage something, such as parts of the trailer or your vehicle. Worse, this overloaded condition is downright dangerous, which you should know will likely void your insurance. So always keep the combined weight of your GVM and your trailer ATM within the GCM specified in your car's owner's manual.
Weight Distribution Hitch Set Up
Although it might sound complex, installing your weight distribution hitch parts is actually fairly easy, and can per performed with simple DIY.
• The first step is to set up the coupling head by lining up your vehicle with your trailer/caravan on a nice flat service using the jockey wheel to level that trailer.
• Next, measure the height of both the front and rear wheel arches of your vehicle for future reference/comparison.
• After fitting the towball to the couple head, fit the drop shank to the hitch receiver (towbar previously installed on your car), to which you attach the coupling head.
• Adjust the coupling head to the required angle using the supplied levelling blocks.
• Attach the spring bars fitted with lift chains.
• Once the lift brackets are fitted onto your trailer arms, the lift chains can be attached.
• Then, it's as easy as raising the lift bracket and securing it with locking pins.
Tips and Reminders for a Safe Trip
Always remember, when packing for your trip, ask yourself:
• Have I only packed the essential items?
• Do we actually need to take four cases of wine, or will a few bottles suffice?
• Do you really need to bring your full range of gourmet pots and pans?
• Can the kids make do with one bike each, or do they need their skateboards and roller skates too?
• Try not to pack your entire wardrobe; there will likely be the opportunity to do some laundry or shopping along the way!
When playing the age-old game of Tetris, attempting to pack all the essentials, ensure that you distribute the load evenly and don't just pile everything into the very back or front of your caravan. When calculating your tow weight, remember to include the weight of all potential passengers, max fuel, luggage and all those other added extras like water tanks and gas bottles that you decided to pop on your van after you bought your new rig. These things are commonly overlooked and add considerable weight to the equation.
Bonus tips: A weight distribution hitch is a great way to increase stability and steering on the highway and relatively flat surfaces, but if you're going off-road, through deeper gutters and drains, remember to release the tension on the spring bars and lift the chains to prevent damage to your tow vehicle or trailer. Also, always disconnect the weight distribution hitch before reversing and avoid jackknifing at all costs (this is where your enjoyable trip away can end in a costly disaster).
There's lots of confusion around towing, weight distribution, load management and load transfer; we often hear, 'is a weight distribution hitch required by law'? And although it isn't a legal requirement for those towing large loads to use a weight-distribution hitch, if you're finding it challenging to handle your car while towing, you will notice a difference with a weight distribution hitch before and after.
Make sure the safety of your family and all other road users is considered by taking the time to perform a pre-adventure safety check to ensure that all towing gear is maintained, adequately measured or calculated and, above all, always in top condition. Before you go, check the engine, including the radiator, oil levels, brake fluid, battery, tyre tread and pressures for maximum performance. Don't forget to check your towing accessories (towbar and weight distribution hitch) and the towing capacity for your car as specified in your owner's manual by the manufacturer, GVM, ATM, and GCM to ensure a hassle-free holiday.
For your caravan, always distribute the load by packing heavy items over the axles, make sure items are secured so they won't move while travelling and also check the trailer towball weight, tyre tread and pressure. Also, double check your hitch is secured with a locking pin and safety clip and check the operation of our trailer wiring harness plug to ensure that the brakes and trailer lights are working properly. For better handling, braking and safety, a weight distribution hitch will spread the load and improve your car's overall performance, protecting your family and other holiday makers. So you're not fighting against your caravan while heading off on your next adventure, consider whether you need a weight distribution hitch to boost stability, increased road handling and steering effectiveness.
Finally, be aware that not all vehicles are suitable for weight distribution kits and, in some instances, are strictly forbidden by the manufacturer (due to the load it applies to the rear of the vehicle, which was not considered during the engineering phase of the vehicle design process). You should always read your owner's manual and consult with the vehicle manufacturer if required.
Click here to visit our Weight Distribution Hitch product page to find the right Weight Distribution Hitch for your towing needs.