What is the most important tool you need to help run your business… how are you going to tote around your work gear? When it comes to choosing a vehicle, many prefer to go for a work van. There are lots to consider when choosing the right light commercial vehicle for your needs, such as reliability, security, budget, suitability, longevity, and potential trade-in value when it's time to upgrade. Some of the most popular models include Toyota Hiace, Hyundai Staria-Load, Ford Transit and the Mercedes Benz Vito.
Once you've managed to narrow down your selection, the next step is to kit it out to suit your needs; necessary accessories can sometimes get overlooked, so ask yourself if you need extras such as roof racks, towbars and rear tech steps. Is there a requirement to carry a work ladder or other materials that need to go on the roof? Are you going to be towing? Will you be parking on job sites or busy areas where there's a likelihood that someone might damage your van? Will you be trading in after five years, or do you need this workhorse to last a lifetime? Finding the right accessories will not only make your life easier but add protection and potential resale value, like adding a technician rear step to your van.

What is a Tech Step?
Also known as a rear safety step, a tech step is a galvanised steel platform that mounts to the back of your work van to help reach up to store and remove items from the roof racks on your van, but a rear step can also protect from bumps and scrapes from other drivers and surroundings. There are two options to choose from, with either a full rear step only or a tech step designed to be incorporated with a towbar. Made from mild steel grade 300, with a galvanised finish that won't chip or mark, and an anti-slip design for your van, Milford rear technician steps come with rear sensor relocation kits where required. In case you're not familiar with what PDC's are, those little circles located at the back of your van are Park Distance Control/Sensors, and if those are blocked or impeded, your van will make some very loud and unhappy noises!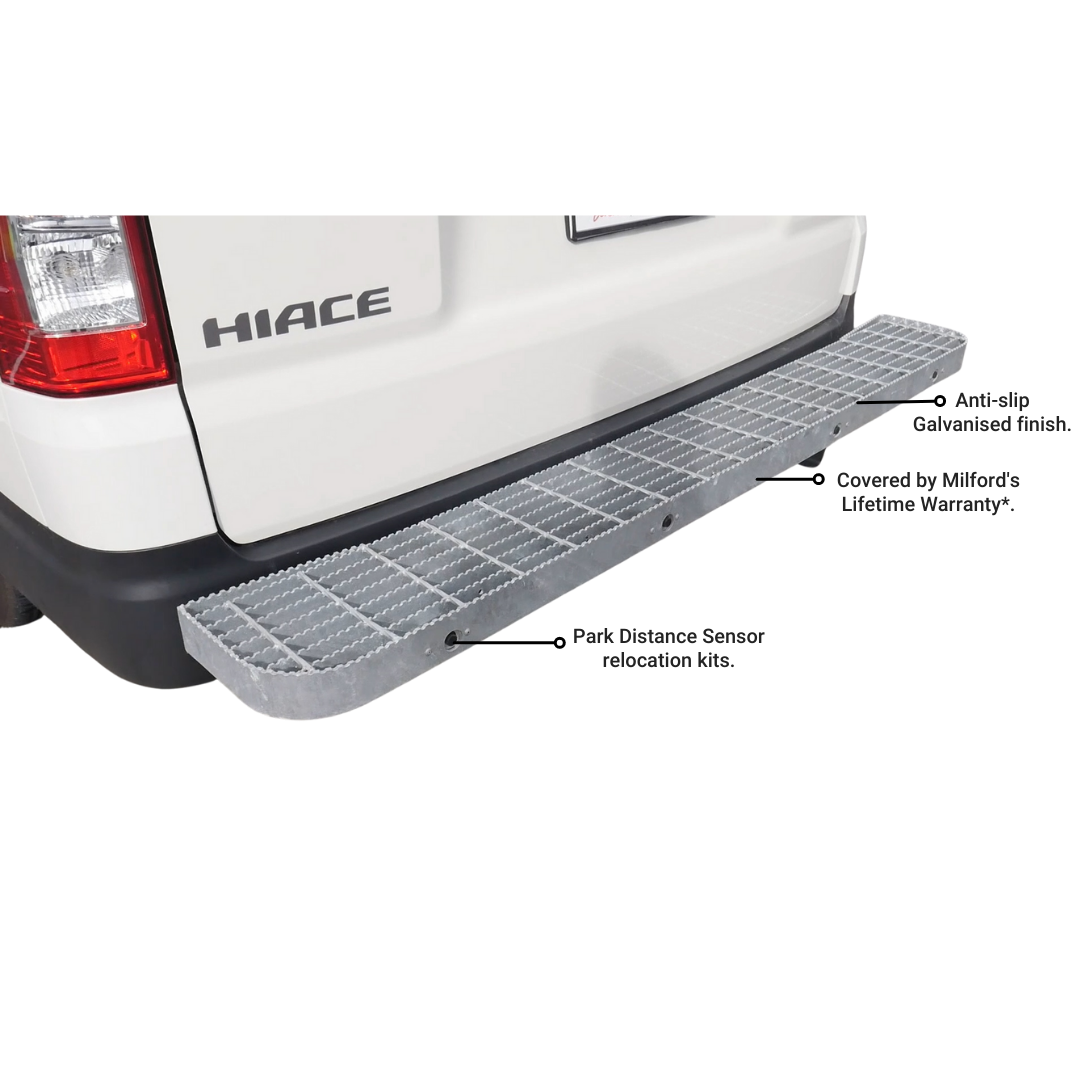 Why are Tech Steps Important?
Like most of us, you need a reliable work vehicle to get the job done! Having quality accessories to protect your investment will allow you to continue to make that all important money…by working. The last thing you need is to be without your work van because someone ran into the back of you when there weren't paying close enough attention. Not just the frustration and cost of finding a repairer and getting the work done. But also, the time taken away you away from the job and potentially cost you more work when you can't get there or have a suitable vehicle to tote around your much needed tools and ladders etc. Protecting your work van is important, but so is yourself and your employee's safety. Work health and safety is not only important to consider, but a legal requirement for employers, providing a safe working environment. For important information regarding work health and safety, check out Australian Government Business Work Health and Safety guidelines.
Whether your self-employed and only need to worry about yourself or if you have employees working for you, you're required to provide a safe working environment for those tradies that spend most of their working hours in, on or around their work van this too needs to be considered as well, not just the office. Roof racks are a popular accessory for carrying materials and tools such as ladders, timber, plumbing supplies and more. It may not be in your budget to use an ergonomic lifting system such as Milford's ErgoRack. Then a rear technician step is a solution to provide a comfortable, anti-slip alternative for reaching those items stowed up top.
Safe Work SA has plenty of sage advice on maintaining a safe work environment by minimising dangers and hazards around the office, Jobsite, and tools of the trade, including your work vehicle. Installing an anti-slip, galvanised rear tech step for your van or towbar will make it easier to retrieve items from the roof racks and reduce the risk of nasty slips, trips, lifting and reaching strain injuries. Don't be intimidated by installation; most van rear safety steps are an easy DIY job with simple instructions that cover off mounting to your van and rear sensor relocation if needed. A tech step will add trade in value to your van with added top spec accessories, or if you are planning on keeping your van until its dying days, this little gem will protect it and help last the test of time.
How to Fit a Tech Step
Depending on the type of step required, whether a full rear step or integrated step and towbar, the installation is reasonably straightforward. It simply mounts to your van's existing mounting points on the chassis without needing any modifications to the step or your vehicle.
Here's how:
Step 1 – If fitting a rear step with a towbar combo, install the towbar first.
Step 2 – Secure support brackets (left and right).
Step 3 – If your van has rear sensors, relocate sensors into the tech step assembly.
Step 4 – Attach the tech step assembly to the support brackets (attached in step 2).
Step 5 – Pack up your tools because you're done!
Some Popular Work Vans - With Rear Tech Steps
Finding the right work van requires careful consideration; spending around 8-10 hours in and out of your work van every day can feel like 'a long time in the saddle'. You want to make sure it meets your needs. Let's consider the most popular work vans on the market.
Toyota Hiace – Nominated by Drive.com.au as the 'Best Van for 2021', the Toyota Hiace often ranks high in popularity for reliability, and affordability and it holds its resale value. Milford offers both an integrated tech step towbar combo and a full rear step for Toyota Hiace.
Hyundai Staria-Load – always a popular light commercial vehicle choice. Milford offers both an integrated tech step towbar combo and a full rear step for the Staria-Load too.
Ford Transit – The Transit offers greater cargo space without compromising manoeuvrability in comparison to other vans on the market, Milford offers a full Transit rear step bumper as well as a full-size Transit custom rear step.
Mercedes Benz Vito – A more premium offering, the Vito offers all the benefits of a working van with interior creature comforts, with the option of full rear step or towbar integrated rear step combo for the Vito.

# Tips and Reminders for Vans with Rear Sensors
With technology becoming more affordable and accessible, work vans fitted with reversing sensors have become the norm rather than the exception, making life much easier! Having an emphasis on driver and vehicle safety, many vans now come with reverse sensors as a standard. As we all know, rear sensors activate when you put your van in reverse by measuring the distances between your van and any objects behind it, using PDC sensors located in the rear bumper. To perform as designed, these sensors must remain unobstructed to perform the job intended. This is easy to navigate with Milford Tech Steps, which comes with PDC relocation kits if required and custom-made sensor housing brackets. During installation, remove the parking sensors from the vehicle's bumper housings and unclip the sensors from the wiring harness. Then insert the sensors into the brackets provided, aligning the sensor and bracket in the mounting holes provided in the tech step.
Click here to find the Tech Step to suit your work van.
After reading this blog and knowing all the advantages of using a Tech Step, would you like to win one for your Van?
Participate in our GIVEAWAY on Instagram, and you can be one of the winners:
Just do the following steps:
1. Go to our Instagram account @milfordindustries and start following us
2. Tag your partner
3. Like this post
See you on Instagram!