With today's busy lifestyles and the age of retirement continually increasing, it feels as though the 'golden years' are getting further away, and it can feel as though we'll never get off the hamster wheel to enjoy the next stage of life. The time where we all hope to slow down, no longer be stuck 'working to the grindstone' and enjoy the kids' inheritance…that you've worked hard for. Instead of being stuck as home looking at all the chores that still need to be done around the house, many join the lifestyle, becoming grey nomads.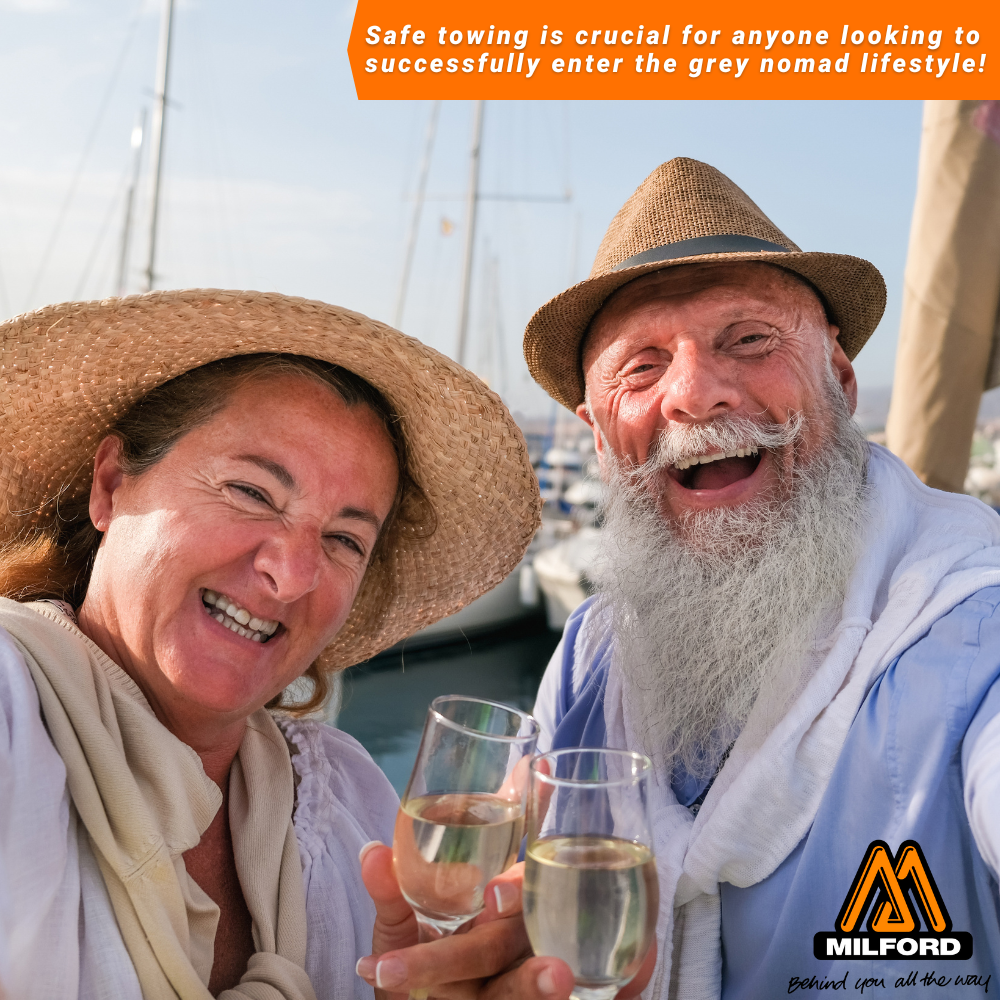 Most of us have heard the term grey nomad, which not only describes the appearance of many but the lifestyle choice of travelling and visiting the many beautiful sights Australia has to offer; but which we often don't feel we have the time to enjoy. Work, family, bills, mortgages and other responsibilities and obligations often demand our time and attention, leaving travel and leisure as a secondary thoughts. We spend our lives focused on earning and providing. When those years come to a close and retirement is on the horizon it can be a daunting step to decide what to do when you finally have that hard earned spare time on your hands.
So, what's required to join the ranks of the 'grey nomad' you ask? Time, money, the drive to see the sights, meet new people and the ambition to enjoy a slower pace! Perhaps you're chasing the warmer weather and hope to migrate from the South? The choice is yours, all you need is a reliable vehicle for towing and a comfy caravan or camper! Joining this nomadic lifestyle for those at the end of their careers is all about going where you choose even on a whim. The choice is yours!
With recent trends leading to a reduction in international travel, caravan sales amongst grey nomads has grown exponentially. However, this has also driven up the price and reduced the availability of caravans. At the same time, manufacturers try to keep up with demand whilst also managing material shortages and increased costs of said materials. But don't be deterred. Adventure awaits!
What is a Grey Nomad?
Most of us have heard the term 'grey nomad', generally speaking, a grey nomad describes the demographic of those people nearing the end of their working life, looking to use some well-earned long service leave, recently retired, or those well advanced in retirement. This is the time to enjoy life, slowdown and 'smell the roses', no longer burdened by work commitments or a young family requiring close attention. Feeling financial stability, or perhaps you have a bucket list that can finally be checked off? The downside is that this is also the time, unfortunately where the old bones start to slow, so migrating at your own pace to a warmer climate might benefit an aging body and ease the symptoms of arthritis.
Why is Towing Safety so Important?
We spend our adult lives working, contributing to society and generally being responsible, this can be exhausting, so taking the time to enjoy yourself and have a well-earned break is a worthy choice. But let's not forget to plan and prepare for this hard-earned trip to ensure a safe and enjoyable experience for all. Below we'll cover many tips and tricks to enrich and potentially extend your getaway while still doing it safely!
Safety is crucial for everyone on the road! A great first step before commencing your journey into the 'grey nomad' lifestyle is to undertake caravan towing education. Many towers don't see the necessity of this, however, it's a great idea to equip yourself with valuable knowledge, experience, and advice from a qualified educator. Unfortunately, we see it all too often on the road, issues resulting from inexperience, incorrect loading of your tow vehicle and caravan, and driving too fast or not to the conditions, can result in a terrifying and dangerous accident. It can happen at any time, such as when overtaking or being overtaken by a truck where the wind and force cause your van to sway, and if the incorrect corrective actions are taken, can lead to a rollover. The Caravan Industry Association offers useful advice on all things caravan and towing related in the National Towing guide. Find it here. When preparing to join the grey nomad lifestyle, much consideration is required. Not just your travel destination and finances, but also choosing the correct tow vehicle, caravan and accessories to suit your needs is critical. Compulsive towing training or special licensing is always a controversial topic, but the concerning fact as highlighted the Caravan and Camping Association, is that only 5% over caravanners undertake towing courses. Experienced caravanners will attest to the differences between towing a caravan and driving an uncoupled vehicle, and inexperience can be dangerous. There's a wealth of videos available on YouTube demonstrating the dangers of inexperienced and impatient caravanners resulting in avoidable accidents.
Take simple steps to reduce your risk of an accident by ensuring you have the right tow set up for your needs, including your rig, van and accessories, vehicle/van preparation, managing fatigue, obeying the speed limit, travel to the conditions, have rest stops when required, safely sharing the road with other travelers. The most common issue for caravanners is sway, this can be triggered by numerous issues but it's also important that you know how to react if and when you encounter this problem. Sway and fishtailing can occur from incorrect weight distribution, speed and wind force, often it's because the caravan is traveling faster than the tow vehicle, so it's important to remember to reduce your speed, maintain steering and vehicle control, engage electronic braking if you have it but don't slam on your vehicle's brakes. Simple mistakes can have devastating effects, even if everything seems fine, all that it takes is a strong gust or a change in wind force and for problems to occur.
The guys at Caravans Plus offer useful tips on caravan and sway issues and how to prevent them in this video Caravan Sway Crash - YouTube
o reduce the risk of an accident on your next adventure it's important to get weighed regularly (the van, not you), as we all know things change in your travel living space. Anytime you add something to your rig or tow vehicle or change where you store these items, it impacts weight and handling. Ensure that you have your vehicle and van regularly serviced and maintained, not only for safety and efficiency but to prevent inconvenient and costly breakdowns or damage. When choosing your towing accessories, make sure you purchase parts from a reputable manufacturer and have them installed by a qualified fitter.
Find lots of useful towing safety tips here Towing vehicles and trailers | Transport and motoring | Queensland Government (www.qld.gov.au)
Tips for Towing Before Your Adventure
Plan your trip by planning out travel routes and stop over points, don't park in truck stops or pull over on the side of the road. Always use rest stops suitable for caravans. Be prepared by packing snacks and water to save time and money, estimate fuel consumption and stops for where you'll need to refuel and have rest breaks. It's important to take your time to prevent rushing.

Practice towing before your journey, a great idea is to practice driving your tow vehicle and van in low traffic area, anticipate corners early, anticipate your turning circle, travel at a lower speed, factor in wind and sway, practice reversing your van,

If you have electronic brakes, ensure you have them calibrated,
Understand your tow vehicle and van weight,

Travel at a safe distance from the vehicle in front to allow adequate braking time,

Maintenance – ensure safety and reduce potential costs. Lack of maintenance can lead to delays, extra repair costs in remote locations, and prevent costly damage to your tow vehicle.
Reduce the weight your towing in your van by only taking the essentials, such as grey water hose, drinking water hose, tap connection, water filter, power cord, wheel chocks, tools, wheel locks (if required), levelling ramps, towing accessories (mirrors), UHF radio, tyre pressure reader, tyre inflater/deflator, mat/ground cover for under your awning, awning supports/pegs, folding tables, comfortable camp chairs, privacy screen for your awning, bbq (if you plan to cook outside), first aid kit/snake bite kit, map/GPS, clothesline for under your awning (so others can't see your unmentionables), phone, solar set up (if required), storage bag for rubbish and/or laundry, fire extinguisher and fire blanket.
If you have only got 'the essentials and you're still carrying a lot, you might need to consider a weight distribution hitch to ensure a level towing set up between your vehicle and van as well as ensure that everything is packed and distributed correctly.
Helpful Money Saving Advice While Caravanning
Travelling and living on the road can be a costly experience, so being budget conscious can help prolong your getaway, here are some useful tips for saving cash on your journey:
Fuel - tow less/reduce weight, if possible, travel at a reduced speed, ensure correct tyre pressure, manage your fuel consumption with Apps that track usage and help find the cheapest fuel prices,
Food - meal plan, prepare your own food, limit convenience foods and take away, stock up in bigger supermarket chains, buy fresh local produce if available at farm gate stalls, if travelling remotely purchase your food in cheaper areas, also remember quarantine areas and restrictions to prevent waste by having to throw out your fresh fruit and veg when entering these areas,

Accommodation - join holiday park clubs/chains for daily discounts, membership cards for caravan parks, look online for discounts such as through your local motoring club including the NRMA, RACV, RAC, RACQ, RAA etc), free camping sites if self-sufficient, house sitting, travelling off peak (outside of school holidays),

Visit local information centers for travel tips and sites to visit as well as any local discounts/brochures, consider camping in smaller towns where the caravan parks are cheaper if not free while benefiting the local community and economy with your shopping etc.
Pretravel Safety Checklist
With the Christmas break fast approaching, it's time to focus on the all important pretravel checklist to ensure your safety and that of fellow travellers so that you enjoy your break without any unnecessary injuries or hassles. This is the busiest time of the year on our roads as well as in caravan parks around the nation. The following checklist will help maintain your rig and caravan as well as maximise safety, so that you don't become a grumpy grey nomad, by not making it to your favourite spot due to poor maintenance checks before your set off.
Your tow vehicle:
Check the engine - radiator, oil, brake fluid levels, check battery terminal connections,
Check the tyres (tread and air pressure levels)
Check the towbar – retaining pin, R-clip, towball torque,
Check the vehicle owner's manual for towing capacity (GVM & GCM),
Your trailer/caravan:
Pack the vehicle and van evenly, ensuring weight is evenly distributed,
Ensure everything is secure and locked down to prevent movement during travel,
Check the towball weight (maximum towball weight specified on towbar rating label) using a towball weighing device (with the caravan/trailer loaded),
Check caravan/trailer tyres (tread air pressure levels, wheel nuts),
Check wiring harness to ensure it's in good working order and connect to the vehicle,
Check brakes (vehicle and caravan/trailer),
Check safety chains and D-shackles, then attach to the tow vehicle,
Test caravan/trailer lights to ensure brakes, indicators, reversing, and hazard lights are working,
Check caravan/trailer do a walk around your tow vehicle and van to check that everything is as it should be.
Check out Milford's useful video 12 Important Safety Tips Before Towing - YouTube
Retirement is something we all look forward to, and becoming a grey nomad is a lifestyle choice being joined by many. Grey nomad 101, the possibilities are endless, and you can go wherever you please, but planning and safety is key. Budget, plan, and choose the right vehicle, caravan and accessories to suit your needs. Check out the plethora of grey nomad websites for travel advice but don't forget safety. You don't want to fail before you begin and miss out on all that is on offer in Australia by getting caught up in a road accident or worse, causing one that injures others by simply failing to consider the potential hazards around towing a caravan.
Lastly, don't forget that after your travels that you correctly look after your rig, being an asset that will provide future comfort and adventures, so make sure you store is correctly providing adequate shelter and a protective cover if possible. Clean it out, not forgetting items in the fridge to prevent an unfortunate and potentially smelly surprise. Power down the van with a trickle charger if you have one and ensure that gas bottles are turned off. Give everything a good clean inside and out, not forgetting the toilet canister is empty and cleaned. This way everything is set and ready for your next adventure!
If you are interested in towing your car this summer, have a look at this link: https://www.milford.one/towbars/