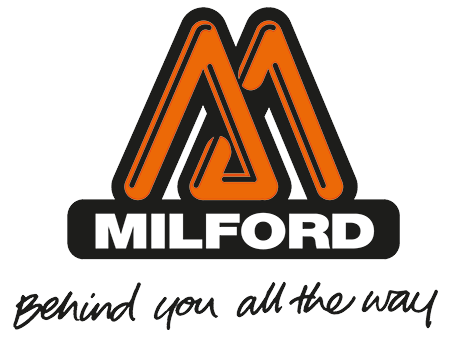 COVID-19 Announcement Update
24 March 2020
Dear Valued Partner,
Due to ongoing events relating to the Coronavirus (COVID-19) pandemic, Milford is continuing to monitor the outbreak with information from the World Health Organization, Australian Government, Australian Department of Health and Industry bodies all providing important guidance to our business. We are committed to the welfare and wellbeing of all our stakeholders - Employees, Suppliers and Customers alike and have instituted a number of immediate measures in response to this advice. These steps include:
Delivering health awareness and hygiene information to all of our employees addressing illness prevention, identification, safety measures and impact protocols.

Implemented Stay-at-Home / Self Quarantine conditions on employees either returning to the State or displaying any signs of illness.

Increased the standard of hygiene within the workplace with more regular cleaning cycles and the provision of personal cleaning materials and PPE.

Increased Social Distancing rules within the workplace along with the relocation of staff to new work zones and remote desks where possible.

Improved our remote communication and video conferencing capabilities both internally and externally.

Instituted an immediate pause on overseas and domestic travel until further notice.
In addition, the business has also audited its resilience capabilities and we are pleased to confirm the following:
All Milford Cargo Barriers and Towbars are proudly manufactured here in Australia and importantly, within our vertically integrated SA operations.

We report no changes from our largely, local vendor stream likely to cause any interruptions to our manufacturing operations.

For the few accessory lines within our range that are sourced globally, we are happy to report that we have sufficient inventory quantities on hand to last quite some time. Of course, we are working closely with our supplier partners to ensure continuity of supply thereafter.
We acknowledge that as of 12:00 NZDT Wednesday 25/2/20 and in keeping with the NZ governments month-long nationwide lockdown, our delivery services will be temporarily out of action across New Zealand. Importantly, all our customer Service functions will remain accessible via our Head Office in South Australia.
Finally, our leadership team have also developed a range of flexibility measures across all parts of our business to ensure that our Customer Service, Development, Testing, Purchasing, Warehousing and Operations departments continue to deliver the high level of results that we are renowned for. Of course we will continue to assess the situation daily and should the above circumstances change, then we'll provide updates at that time.
Should you have any questions or concerns regarding the above advice then please feel free to contact us on Ph: 1800 MILFORD or info@milford.one
Thank you for your ongoing support during these challenging times, we look forward to being of service.
Yours truly,

General Manager
Milford
20 Fitzroy Ave, Camden Park,
South Australia 5038

Milford Group of Companies